Studded Leather Belt, Rivet Belt
Rivets are a great way to add flair to your belt. Silver and gold studs provide a fashionable, modern appearance, while copper or weathered studs can give the belt a vintage style. We can apply rivets of various colors and shapes. We can also fabricate studded PU belts based on your requirements.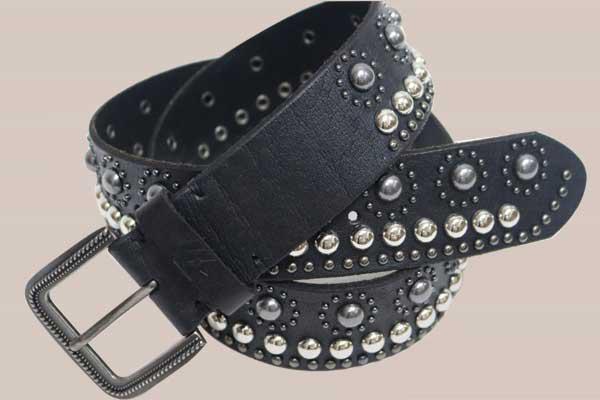 Craft Details
The rivets on full grain leather or PU leather is fairly firm, and we will examine the fastness one by one. We can ensure that each rivet is flat and smooth, including rivet foots on the back side.
Multiple Design Possibilities
In our case, riveting is not only the simple combination of studs with different colors, shapes and sizes. We constantly work on innovation, trying to combine multiple crafts, such as rivet and embroidery, rivet and embossing. Products of abundant styles have been created.
studded embossed leather belt. The belt base material is embossed in two colors, and daringly designed with contrast color, adding blue studs on the belt. The rivets are weathered and patinated, therefore, the color and luster of studs are different from each other, providing more unique clothing styles.

studded embroidered leather belt. The edge of the leather belt is decorated with copper rivets and the center is embroidered with totem. The center of the silver embroidered totem is highlighted with studs of the same color. The overall style is coordinated and delicate.
Product Show